R1Soft Server Backup Manager
For Dedicated Server with Server Backup subscription
Details on R1Soft's Data Protection Policy & others settings.
For Shared Hosting users
Please follow the step-by-step guide below to use R1Soft Backup Software Tool in the Shared Hosting cPanel Control Panel:
Firstly, login WHM > Files > Login R1soft (Same username and password as WHM).

Secondly, browse – Click to restore files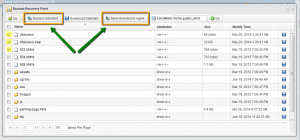 Next, download – Click to download the backup files.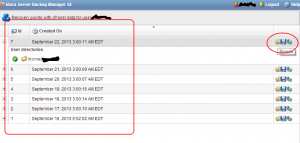 After that, sent To Agent – Click to create own backup file.
R1Soft Continuous Data Protection, CDP in short, provides an easy and effective way to back up and restore files and MySQL databases on a Flex Dedicated server.
After you enable R1Soft for your account, you no longer need to take any additional action. What will happen is, R1Soft begins generating backups of your server automatically.
Moreover, R1Soft stores enough backups to cover the past month. There is a backup for each of the most recent seven days. There is also a backup for each of the remaining three weeks, for a total of ten backups.
Sometimes a problem might occur on your site, or you need to restore data for some reason. In this case, the R1Soft Server Backup Manager enables you to access your backups using a convenient web interface.
Idera Server Backup Manager
It is formally R1Soft® Continuous Data Protection® (CDP). Idera Server Backup Manager is a complete server backup and disaster recovery solution, specifically for Hosting, Cloud, and Service Provider environments.
Idera Server Backup Manager has been delivering fast, reliable server backup. Besides, it delivers services of disaster recovery to the global Hosting, Cloud, and Service Provider community since 2006. Unlike slow file-based backup products, Continuous Data Protection® technology protects at the block level drastically. This reduces the impact on your computing environment. Furthermore, you can schedule the backups as often as every 15 minutes. This is because it allows offering low recovery point objectives to your customers. When disaster strikes, data recovery is just a few clicks away using the Server Backup Manager Console or integrated into the cPanel Control Panel. With proven technology at a low price, Idera Server Backup Manager is exactly the right choice for your business.
Deploys in a few minutes – no need to involve expensive professional service engagements
Centralized management – control, monitor, alert, and report on backups activities for up to thousands of servers
Broad platform support – Windows, Linux, custom kernels, and all popular virtualization environments
Flexibility of data recovery – restore individual files, file systems or do a complete bare-metal restore
Tenant security – multi-tenant policies maintain a clear separation between customers and their data
Free application backup – includes support for MySQL, Microsoft SQL Server, and Microsoft Exchange
Tiered SPLA discounts – your cost automatically reduces as demand increases maximizing your profits
Control expenses – to own freedom to use any disk-based storage or TCP/IP network infrastructure
Data security – Disk Safe® AES-256 encryption secures backup data both in transit and idle
Image verification – Disk Safe® Verification provides corruption-free restores eliminating resource-intensive testing