HOW TO: Terminate multiple accounts via WHM
If you want to cancel hosting accounts using WHM, you'll find a convenient choice available to terminate one or more accounts as a batch. Follow these steps to end various accounts through WHM.
1. Firstly, log in to the WHM administration dashboard. In the search box, enter "terminate", then select Terminate Accounts under Account Functions.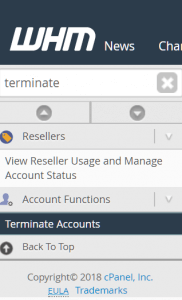 2. Then. the screen will display a list of existing accounts. Check the accounts you wish to end and click Remove the accounts you have chosen. Note the checkbox Keep the DNS zone next to each of the available entries if you want to keep the accounts related to DNS records.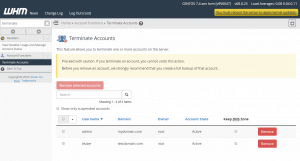 3. Next, click Yes, delete the chosen accounts button to finish account deletion. When the accounts are deleted, you will receive a confirmatory message on the screen. 

We hope this article helped you to learn about how terminate multiple accounts through WHM. For more articles, kindly visit our Knowledge Base.