How to setup content filtering in SmarterMail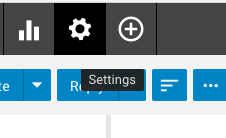 From time to time you may want to do something specific about the type of emails you receive, for instance, you may want all emails from a certain person going directly into a specific folder or you may want emails containing certain wording to be deleted or bounced.
When applying content filters you should note the following important points:
If you want to move emails to a specific folder, you MUST use IMAP settings on outlook otherwise you will not get those emails, as POP3 only downloads what is in your inbox. This will not affect the filter but you would need to go to your webmail to see those
If you filter by words included in the body or subject line, you MUST be careful than those words can't be included in other emails, particularly if you decide to delete the emails or send them to spam
At times some mailboxes may receive bounce backs in large quantities from emails they have not sent. This is obviously a nuisance. Those tend to be sent from outside servers but are spoofed to use someone else's email in the return field meaning the bounce backs are going to you for instance.
The following instructions will show how to set up content filtering in SmarterMail.
Follow these instructions:
If the Settings icon is not noticeable, click the down arrow button to scroll down in the left navigation toolbar.
Step 1 of 7
Firstly, click on the + sign to open the Filtering options and select Content Filtering.
Step 2 of 7
Proceed by clicking the New button to create a new filter.
Step 3 of 7
After that, click the From specific addresses checkbox and select the Next button.
Step 4 of 7
Enter email addresses that you wish to filter in the From specific addresses text area and click the Next button.
Step 5 of 7
Enter a Name for this content filtering rule.
Step 6 of 7
Now, select an action or actions by checking the appropriate checkboxes.
Step 7 of 7
Finally, to save and generate this filtering rule, press the Save button.
You can now set up Content Filtering rules in SmarterMail.