Change the ASP.NET version in Plesk
ASP.NET is an ideal tool for programmers to develop interactive web applications in Windows environment. This guide will shows you how to easily change or install a new version using Plesk control panel.
To change the active ASP.NET version on your Plesk account, follow these steps:
1. Firstly, log in to Plesk.
2. Then, click Websites & Domains in the left sidebar.
3. Next, click on ASP.NET settings under Web Scripting and Statistics.
4. After that, click on Change Version.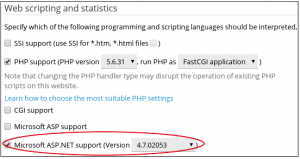 5. Choose your desired ASP.NET version.
6. Lastly, click OK to install the new version.
We hope this article helped you to learn about how to change the ASP.NET version in Plesk. For more articles, please go to Knowledge Base.