PuTTY is a terminal emulator, serial console, and network file transfer program that is free and open source. Besides, PuTTY is an SSH and telnet client, developed originally by Simon Tatham for the Windows platform. Originally, it was written as Microsoft Windows but was then ported to many other operating systems. PuTTY does not explicitly support session tabs, but several wrappers that do are available. 
There are multiple network protocols that are supported, including SCP, SSH, Telnet, rlogin, and raw rocket link.  It can even connect to a serial port. For some certain Unix-like platforms, official ports are available, with Classic Mac OS and macOS. Moreover, unofficial ports for platforms such as Symbian, Windows phone, and Mobile have been added. 
Can control the type of encryption protocol using an SSH connection.
Comes with SSH Forwarding functions, including

X11 Forwarding. (

X11 also called X Window System, is a bitmap display window system.)
Support public key authentication.
It can run very well under

Windows 9x/NT/2000.
You can download PuTTY here.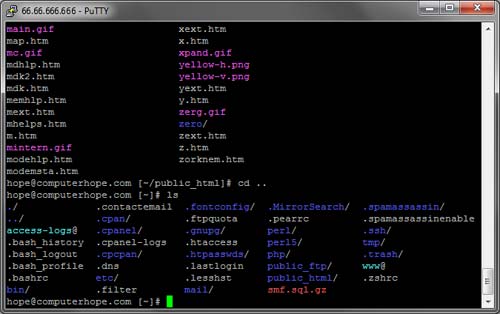 The picture shows an example of a PuTTY SSH session.