VPS is a short-term form for a Virtual Private Server. It is one of the most popular hosting services you can choose for create a website. VPS is similar to dedicated server which uses virtualization technology to provide resources on a server with multiple users. VPS is more secure and stable because it does not has dedicated server space. It does not need to share compared to shared hosting because it does not has dedicated server space. VPS has its own storage space. It does not need to be kept with other user's data in order to ensure the privacy and security of the data. VPS is not like shared hosting with sharing a dedicated server space. Then, it is smaller-scale and the price is cheaper than renting an entire server.

This is one of most popular web hosting company that packages sales of Windows VPS. You can see the picture as below: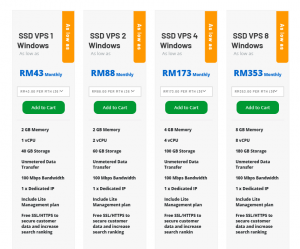 How Does VPS Works:
A server is every files and databases for your website's needs that is stored by your web host's computer. When online visitor wants to take a look on your website, they must access it with sending a request from their browser to your server through URL which is Uniform Resource Locator to Internet Protocol Address what we called IP address and the data exchange via Hypertext Transfer Protocol (HTTP).

Then, VPS hosting will provides a virtual server that helps to simulate a physical server but the machine is shared among several users at the same time in reality.  As hosting provider, you install a virtual layer on top of the server's operating system which called OS with virtualization technology. It divides the server into several partitions and at the same time each user can be allowed to install their own OS and Software.

For example, when you set up your website by using VPS, VPS will provide a secure container with guaranteed resources such as memory, disk, space, CPU cores and etc. The purpose of it is to prevent data sharing with other users and at the same time you still have the same root-level access with a much lower cost.
Pros:
Price: Compared to dedicated servers of the same size, VPS is relatively cheap, providing much more raw computing capacity, despite being virtual. However, VPS compared to regular or basic web hosting plans, they're only slightly more expensive whatever offering a lot more options.
Setup: A VPS server can be create much faster than a dedicated server, which can be assembled and install afterwards. That means, with all the necessary software install, your virtual dedicated server can be ready in a matter of hours.
Flexibility: It provides more VPS servers than Dedicated Servers. That's because they actually mimic standard cloud web hosting plans. In terms of price and features, this means that you can still find the best option for you.
Root access: Alike with a Dedicated Server, you will get a full root access. This solution will helps to perform operations typical of the stand-alone dedicated server environment – install additional modules and software, communicate directly with the server's OS and etc.
Powerful: The Virtual Private Servers can work with several VPS servers because it is a very powerful machine. It defines the physical server are made of top-of-the-line hardware components and VPS is allowed to spot extra features, which will be missing from a dedicated server offer in the same price range.
Security: with a VPS server, the main server will be protect against DDoS attacks such as virus. Therefore, you can sleep a bit easier when it comes to server security.
Cons:
Less power compared to dedicated servers: Virtual Private Server is better or suit to personal website or resource heavy applications. However, when you plan to start a huge business portal such as forum section or sending tons of emails per day. We suggest that you should need a dedicated machine to run resource-hungry applications.
Support will be slower: From the backend point of view, a support technician can solve problem. With a cloud hosting account much faster than a problem with a VPS server.
In conclusion, VPS hosting gives you full control without running your own server without access to guaranteed resources. It is an excellent solution for high-speed, medium-to heavy-duty websites and eCommerce. Yet businesses expected to grow quickly can also benefit from the service's stability. If you want a secure, corporate hosting environment at a reasonable price. Then VPS hosting on your website should definitely be consider.
Read More >> What is Virtual Private Server? What It Can Do?