SiteLock is the best business website security solutions. In addition, it is the only web security solution that offers a complete, cloud-based website protection. It finds and fixes threats, prevents future attacks, increase website performance and meets PCI compliance standards for businesses of all sizes. Ever since 2008, SiteLock has protected over 6 million websites worldwide.
Customer will trust your site more with The SiteLock Trust Seal. Thus, this will increase your sales and conversions.
SiteLock has a full scanning capability. It ensures your website's security by automatically scanning for malwares and vulnerabilities.
Proves that your business can be trusted.
Spam & Malware Monitoring
Daily monitoring to ensure your website is free of spam and malware.
With Sitelock installed in your website, you get alerted instantly when there are attacks from malicious users or hackers.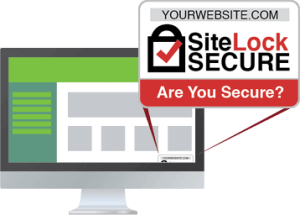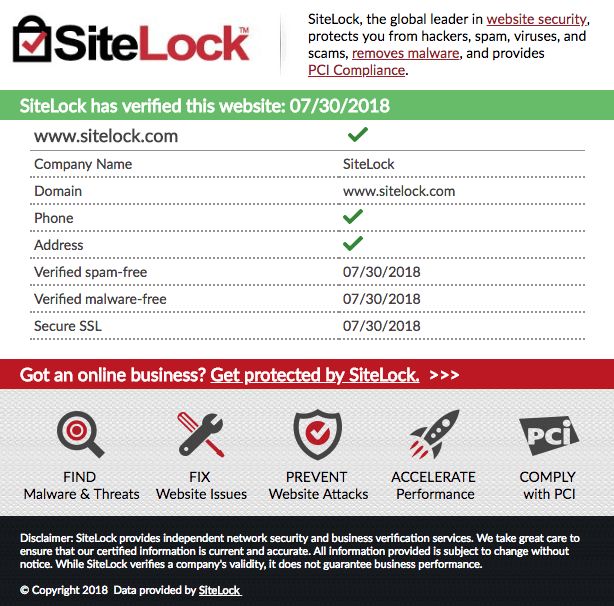 Frequently Asked Questions
SiteLock is a software that protects your website from various security problems.
After installation, SiteLock Basic runs numerous scans on your website. It searches security breaches including malware, email vulnerabilities, and other problems. When the various scans are completed, then your business is verified. Therefore, you can display the "SiteLock Secure" badge on your site. Hence, your visitors will know that your site is officially safe and free of problems.
Yes. SiteLock does not modify any of your website data or applications. We simply scan your site like your PC anti-virus scanning software. Furthermore, we identify potential problems and notify you on that. If you need help fixing any issues, our expert service team is available to provide technical support.
Casbay® is a SiteLock partner offering three SiteLock products that are available to its web hosting customers only. Get Started Today!
Often, the vulnerabilities were due to outdated versions of open source web applications installed on your website.
Therefore, you should run a full backup of your website. Then, upgrade your web application to the latest version. However, if you are using a custom developed web application, then you shall contact your website developer immediately.
Your website might get hacked and cause disruption. Moreover, your website might also be used as medium for sending out SPAM or hacking another vulnerable website.
Casbay will ensure the server and network which your website is hosted on are secure. However, the security of your website or web application layer needs the cooperation from you as a website owner as well as your Webmaster or Web Developer.
Simple Rules of Thumb:
Password. Make sure you use strong passwords that have a combination of alphabets, numbers and special characters. Use different passwords for different logins; change your password every 3 months.
Open Source Web Applications. Make sure your web applications are always up to date. If you are using the pre-installed apps from your cPanel cPAddons, SiteSoftware or Softaculous, you can upgrade easily to the latest version using the one-lick "Upgrade" button inside your cPanel.
Unused Web Application. Make sure your web applications that are no longer in use or for testing purposes only are disabled or deleted.
Folders and Files Permission. Make sure you don't allow "All Writeable" and "All Executable" to all your files and folders. Only grant the required permissions to selected folders and try to avoid granting both "All Writeable" and "All Executable" to the same folder.
Promotion price is applicable to new registration only. For renewal, the price will be reverted to default price.
Submitting your order(s) to Casbay does not mean your requested domain(s) is/are already registered until payment confirmation is received.
Casbay reserves the right to amend the terms and conditions of this offer without any prior notice.
If you have any further questions or concerns, please contact us.